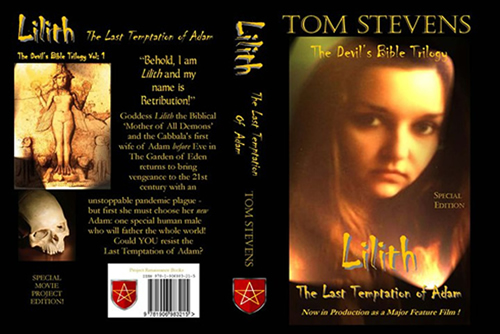 Lilith
The Last Temptation of Adam
This is the title of a book by author Tom Stevens, published by Project Renaissance Books 19th September 2010. ISBN 9781908983215. It will be available worldwide on Amazon.
A film, based on this book, is in production, for which Maggie Reilly and Stuart MacKillop will write the soundtrack.
On this page we'll keep you up-to-date about this project, thanks to the information provided by Tom Stevens himself.
---
Maggie Reilly's song "Lilith" is the official music for Tom Stevens' epic Mythic Fiction novel "Lilith: The Last Temptation of Adam", and is available now on her original album "Looking Back Moving Forward" from www.maggiereilly.co.uk with the individual track "Lilith" available as an MP3 download from www.amazon.com. Maggie's song will also feature as the title track on the forthcoming "Lilith: The Last Temptation of Adam" full production feature film movie soundtrack, and audio CD with an original music score for the whole film by Maggie Reilly and Stuart MacKillop.
For more information see www.greenchapelfilms.com.


Lilith: The Last Temptation of Adam
Author Tom Stevens on: The Music of Maggie Reilly and Stuart MacKillop
"Of all the creative arts, none are so emotionally evocative as music. For an author to have his work made into a film is a great privilege, but to have it accompanied by a music score that literally paints it, in the vivid colour palette of human emotion, is a greater privilege still.
Maggie Reilly is rightly regarded as one of the finest lyricists and singing talents of our times. The unparallel beauty of her voice famously led to a long and successful collaboration with progressive rock musician Mike Oldfield. But, in my opinion at least, it's her later work, with her long-time song writing partner Stuart MacKillop, that really showcases her amazing gifts.
Together, Maggie and Stuart create a very special, and perhaps unique harmony between lyric, voice, and song, that complements perfectly what I have tried to achieve with my writing. Their music connects to the human soul, and to the living landscape, with all of its transcendent emotions, there reaching effortlessly into the heart of the listener, as no other music I have ever heard, could do.
When I first approached Maggie with the idea of a collaboration, it was for another book, the Celtic-Arthurian epic "The Cauldron" (special edition). But what neither of us realised at first, was that at the very same time, but completely separately, Maggie and Stuart had written and produced a song called "Lilith" – just as I had written and published a novel by the very same name.
Moreover, when I listened to the track, I realised immediately that it fitted perfectly with my vision for the book, and for the film project, that was already then in early development, from it.
The synchronicity was both obvious and compelling – with Maggie, Stuart, and I each realising that this was something meant to happen, almost as if our creativity had been guided (outside of our awareness) towards the same goal. Then, when I heard some more of their recent material, and heard their plans for new song writing, I was frankly stunned, both by the quality of their work, and, the ideal fit, both with the book, and with the film script.
Even now, I find the beauty of Maggie's voice and the sheer talent of both her and Stuart to be in a class of their own. Their gift, for that is what it is, is truly a living thread of their lives, and the privilege I feel in working with them professionally, is equalled by the privilege I feel in knowing them personally."

Tom Stevens

Lilith
The Last Temptation of Adam
Feature Film

Author Tom Stevens, and Pauline Richards, together with musicians Maggie Reilly, Stuart MacKillop and Chrys Lindop, have formed a new movie production company: Green Chapel Films Ltd., to work with their associated production partners and investors to bring "Lilith: The Last Temptation of Adam" to the big screen. This epic film is a true creative collaboration, in the spirit of the pre-Raphaelite Brotherhood, with a stunning soundtrack, beautiful visuals, an amazing script, and superb acting talent.
For news as it happens see www.greenchapelfilms.com

---

If you want to know more about Tom Stevens' work, have a look at Tom's MySpace, his Facebook, also Lilith The Last Temptation of Adam on Facebook and Viridios Productions. And of course Maggie's blogs on her MySpace.
On 1 March 2011 Tom Stevens, together with Matt Milburn (actor) and James Kenny (Lancashire Militia) were interviewed about "Lilith: The Last Temptation of Adam" by Billy Butler on BBC Radio Merseyside. You can listen to the show here. (interview starts at about 27.27 min)
September 2011: Tom Stevens announces that 'The Tower' scene for the Lilith Featurette, entitled 'Lilith The Redeemer', has been filmed, - with music and voice-over by Maggie Reilly.
July 2012: Tom Stevens publishes a short promo for Lilith: the Redeemer with Maggie Reilly voice-over on YouTube. Click here to view.