Cado Belle
Cado Belle was formed in October 1974 in Glasgow, when Stuart MacKillop's blues band Joe Cool united with another local band, jazz-orientated formation Up. Cado Belle consisted of six members: Alan Darby on guitar, Gavin Hodgson on bass, Stuart MacKillop on keyboards, Maggie Reilly on vocals, Davy Roy on drums and Colin Tully on saxophone and flute.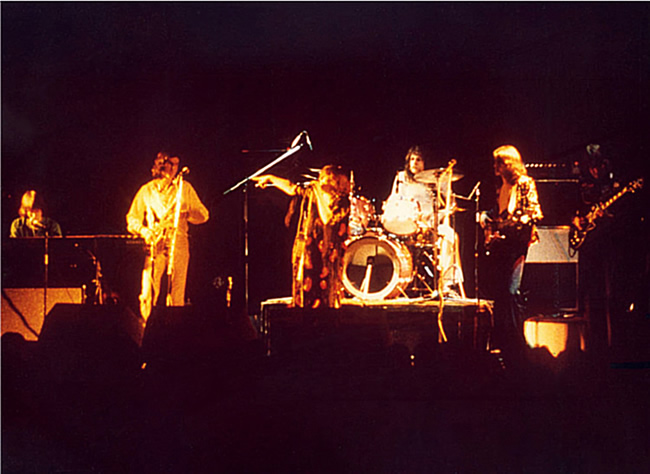 Their only album, simply called Cado Belle, was released in 1976 on the Anchor label and featured only original songs. An EP was recorded a year later and the band went on to tour the country giving concerts in clubs. The band also appeared on Jim Wilkie's album The Waxer. Cado Belle split up in 1979 when Gavin left the band and Stuart went off to work with ABBA.
The band members would, however, occasionally collaborate again. In the late 1970's Maggie and Colin worked together in Riotous Assembly. Stuart and Gavin regularly contribute to Maggie's solo albums. All the band members, except Davy Roy, reunited in 1996, when they contributed to Maggie's album Elena.
(Special thanks to Christopher Downie for this photograph of Cado Belle in concert)
Cado Belle fan Mr. Robert Hanning kindly provided us with the following photographs of CadoBelle concert tickets. He also wrote down some memories and background information about Cado Belle. You can find it here.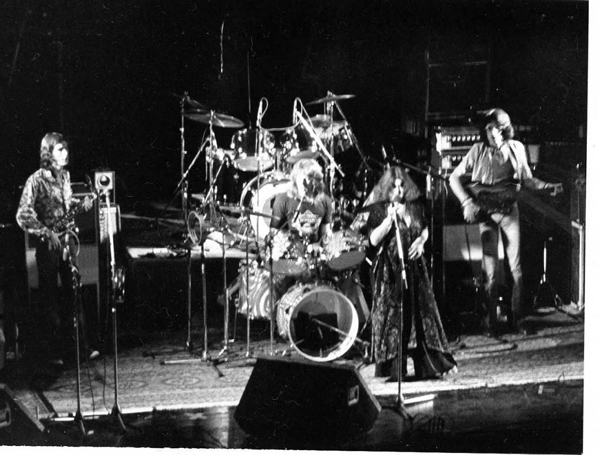 Newspaper articles about Cado Belle: article 1 / article 2
The recorded work of Cado Belle
Cado Belle - 1976
1. All to familiar
2. Infamous mister
3. Rocked to stony silence
4.I name this ship survival
5. Paper in the rain
6. That kind of fool
7. Airport shutdown
8. Rough diamonds
9. Got to love
10. Stone's throw from nowhere
Cado Belle E.P. - 1977
1. It's over
2. September
3. Play it once for me
4. Gimme little sign
Some YouTubes
Cado Belle - Live - Next best thing
Cado Belle - Live - Falling in and out of love
Cado Belle - Live - Ain't no doubt
Cado Belle - Live - Still running
Cado Belle - Live - Dill
Cado Belle - Live - Piece of sky
Cado Belle - live at The Third Eye Centre in Glasgow, 1975